Happy Fourth of July!!!
Aside from the national pride, picnics, hot dogs, BBQs, ice cream and mosquitoes, the fourth seems to bring about my absolute need to shop and spend all my money! This fourth seems to be a bit worse than ever, due to the fact that our sofa broke and needs to be replaced. We purchased our sofa sectional last year when we got our home, and within 6 months we noticed that the frame of the sofa was cracked in several places. We waited a few weeks before finally calling Macy's customer service, and then we had to wait another almost 4 months to get the whole thing sorted out. Turns out Macy's no longer carries our sofa, so we have a store credit to get it replaced. Here's a picture of our current, broken sofa....don't mind the photo, it was taken last year in the midst of cleaning.....
my beloved, grey sectional
Part of me is heartbroken, because I LOVE this couch. I love the cool grey color, I love that the fabric is so soft, I love that it's like the most perfect size for our small living room, I love how clean and modern the lines of it are, and I love that I can take the best naps of my life on it. What I don't love is that it seems to have been very poorly made....the frame is cracked in at least two places, one entire leg broke off, and the fabric is piling. Remember, it's not even a year old. While I'm looking forward to replacing it with something a little better quality, I am finding it daunting to find something else I love so much. And then there is the ultimate debate between myself and my husband (and most women and their men): leather, or fabric??? Oh, the agony of deciding. Our home is by no means completely finished as far as furniture goes, but I always wanted a bright, clean, modern and effortless look. I love the cool neutral walls with neutral furniture pieces and then big POPS of colors in the accessories. I think I am up to any decorating challenge, however it's so much easier for me to stay in my light-colored comfort zone.
That being said, my husband wants a dark chocolate leather sofa. I want an off white chenille sofa. And so the debate begins. We've narrowed it down to two sectionals we both like. One is a nice dark leather sectional with a sleeper. It is also in stock at our local Macy's so we're able to sit on it and slide off (leather = slippery). The other sofa is a gorgeous chenille fabric, in a nice light color. Unfortunately it is not sold in New York so we cannot see it and would have to order it online based on the photo. But, but, but - it's reallllly beautiful in the picture!!! Here are the two top contenders:
So, if we buy the lighter one, yes, our dog will have it covered in dog hair within 10 minutes, and if we spill red wine we might be in trouble....but it's so nice, and I was instantly smitten the moment I saw it. Actually, it was pretty crushing when we went to Macy's and they said they didn't have it and wouldn't be getting it in either. Ugh, just my luck. I mean, if we go with the fabric sofa it will instantly add to the feel of our home. It'll blend effortlessly with all of my other furniture and decor in a timeless, elegant way. Right?
The whole car ride going to Macy's my husband was making his case for a leather sofa. I declared "I will not, under any circumstance, ever buy a leather sofa. They are cold, dark, ugly and incredibly not friendly for the cows." I feel like I was standing up to something by refusing to get a leather sofa. If there is one thing I've learned in life, it's to never say never, because the harder I promise I won't, I tend to do that very thing I thought I'd never do. And so here I am, seriously thinking about a leather sofa. I'd have to redecorate pretty hard core to make it not seem like a giant brown caterpillar in the center of my open layout living area. I'd need a new, lighter colored rug, a new coffee table (ok, so I needed that anyway), a new console table, new lighting, new pillows, new throw blankets....
Actually, not that I've done any research, I think I would need all of the following:
This rug, in my favorite color, from West Elm.
This clear coffee table, from CB2, it would most definitely help make the room seem lighter!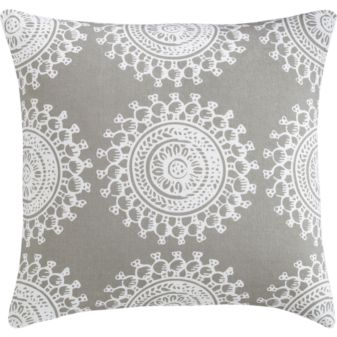 This pillow, also from CB2.
And then the dining room would also need some help, since it's an open floor plan and essentially one big room.....
This little bugger is from West Elm, and is unfortunately sold out. Harumph - I want two of them.
this hanging pendant, from Amazon.
So, even as I write this post, I know in my heart I'm going to end up with the leather sofa. It's the better choice.....but if you have an opinion, I would love to hear it.....
Pictures of my new leather sofa to come soon (I'm sure!)